ADDITIONAL SERVICES

First National Bank Minnesota is dedicated to providing our customers with the most convenient, innovative services in the banking industry today. In doing so, we never lose sight of putting our customers first - our standard since we opened our doors in 1857.
Applications and Forms
Welcome to the First National Bank Minnesota Application Center. We look forward to the opportunity to serve your financial needs.
It's easy to get started. Simply select and print the application below. Please note when printing an application, you may be required to install Adobe Acrobat Reader.
Checking, Savings, Certificate of Deposit, & IRA Application
Once you have completed the necessary information, use the link below to send your confidential application documents safely and securely to the First National Bank Minnesota team!
CLICK HERE TO SEND A SECURE DOCUMENT
Your business is important to us. When you are opening a new account, you are most likely also closing an account elsewhere. We have developed the "Easy Switch Program" to assist you in moving your accounts.
Complete our Easy Switch Program form.
ATMs
First National Bank Minnesota is part of the MoneyPass ATM network, so you can use any MoneyPass ATM surcharge-free.
Access thousands of ATMs nationwide
Withdraw cash instantly
View account balances in real time
Calculators
First National Bank Minnesota has a variety of calculators available powered by TimeValue including home financing, personal financing, investments, retirement and lease.
Consumer Credit Cards
Choosing the right credit card is easier than ever. Whether you want to pay down balances faster, maximize cash back, earn rewards or begin building your credit history, we have the ideal card for you!
No matter which card you choose, you'll enjoy important features like:
Convenient and Flexible Purchasing Power. Accepted at millions of locations worldwide.
Mobile purchasing capability for added convenience.
Zero Fraud Liability.* You will not be liable for fraudulent purchases when your card is lost or stolen.
Cardmember Service available 24 hours a day/365 days per year.
Plus much more!
*Elan Financial Services provides zero fraud liability for unauthorized transactions. Cardholder must notify Elan Financial Services promptly of any unauthorized use. Certain conditions and limitations may apply. The creditor and issuer of these cards is Elan Financial Services, pursuant to separate licenses from Visa U.S.A Inc., and Mastercard International Incorporated. Mastercard is a registered trademark, and the circle design is a trademark of Mastercard International Incorporated.
If your card is lost or stolen, please call (800) 558-3424.
Debit / ATM Cards
An ATM Card allows you to access your money at ATMs (Automated Teller Machines) across the United States and abroad. You can access your cash when you need it – 24 hours a day!
The Check Card (commonly referred to as a debit card) has the same features as an ATM Card and more. It allows you to present your Check Card to make a purchase at any merchant that accepts debit cards instead of writing a check. Your transaction will be deducted from your checking account and will appear on your monthly statement. Use your Check Card to shop over the phone, online, or at your favorite store.
If your card is lost or stolen please call (800) 658-2353 during regular business hours or (800) 472-3272 after hours.
When a suspicious transaction is identified on your First National Bank Minnesota Debit Card, our Fraud Detection Center will contact you by telephone or text. They will NEVER ask for the PIN or the 3-digit security code on the back of the card. No information should have to be provided other than your zip code and a 'yes' or 'no' to the transaction in question. If you receive a voice or text message from the Fraud Detection Center and are unsure about responding to it, please don't hesitate to contact your local branch location to verify the correspondence is legitimate.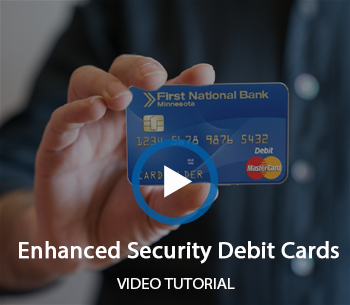 Extended FDIC Insurance
At First National Bank Minnesota, we recognize the significance of providing enhanced protection for your assets, and safeguarding your deposited funds is a top priority for us. If your account balance surpasses the FDIC limit of $250,000, you can rely on our IntraFi Cash Services (ICS®) and Certificate of Deposit Registry Service (CDARS®) programs for added protection. These programs enable you to extend FDIC coverage to cover the entire amount of your deposits while enjoying the convenience of a single account and the fast, flexible, and reliable service of First National Bank Minnesota.
Institutions, like ours, that offer ICS and CDARS are members of the IntraFi network. When we place your funds through the ICS or CDARS service, that deposit is divided into amounts under the standard FDIC insurance maximum of $250,000. The funds are then placed in money market deposit accounts (using ICS), or in CDs (using CDARS), at multiple banks. As a result, you can access coverage from many institutions while working directly with just one. You receive one monthly statement from our bank for each service in which you participate, and, as always, your confidential information is protected.

ICS® & CDARS® is a secure and convenient way to insure high balance deposit of $250,000 or more, with full FDIC protection. With our Extended FDIC Insurance Programs, you can:
Rest assured.
Know that deposits well into the millions are eligible for FDIC insurance protection. Because deposit accounts are not subject to floating net asset values, market volatility will not negatively impact principal.
Earn interest.
Put cash balances to work in demand deposit accounts, money market deposit accounts, or CDs.
Keep it simple.
Avoid opening multiple accounts with multiple institutions to protect your funds. Forego the need to use repo sweeps, track collateral on an ongoing basis, and manually consolidate statements and disbursements from multiple banks.1
Access funds.
Enjoy access to funds placed into demand deposit accounts and money market deposit accounts. With CD placements, select from multiple terms to meet your liquidity needs.
Support your community.
Feel good knowing that the full amount of funds placed through ICS and CDARS can stay local to support lending opportunities that build a stronger community.
One Relationship.
Work directly with the dedicated team at First National Bank Minnesota - the bankers you know and trust. Extended FDIC insurance covers all types of deposits, both for Business and Personal accounts.
We are here to serve you and help answer any questions you have regarding obtaining extended FDIC Insurance, just reach out and we'll be in touch shortly.
Important note: please don't send sensitive information through email or through our online form, as these modes of communication are not entirely secure.
1 If a depositor is subject to restrictions with respect to the placement of funds in depository institutions, it is the responsibility of the depositor to determine whether the placement of the depositor's funds through ICS or CDARS, or a particular ICS or CDARS transaction, satisfies those restrictions.
Deposit placement through CDARS or ICS is subject to the terms, conditions, and disclosures in applicable agreements. Although deposits are placed in increments that do not exceed the FDIC standard maximum deposit insurance amount ("SMDIA") at any one destination bank, a depositor's balances at the institution that places deposits may exceed the SMDIA (e.g., before settlement for deposits or after settlement for withdrawals) or be uninsured (if the placing institution is not an insured bank). The depositor must make any necessary arrangements to protect such balances consistent with applicable law and must determine whether placement through CDARS or ICS satisfies any restrictions on its deposits. A list identifying IntraFi network banks appears at https://www.intrafi.com/network-banks. The depositor may exclude banks from eligibility to receive its funds. IntraFi and ICS are registered service marks, and the IntraFi hexagon and IntraFi logo are service marks, of IntraFi Network LLC.
Know Your Credit
Review your credit report each year for accuracy.
RECEIVE A FREE CREDIT REPORT: ANNUALCREDITREPORT.COM
Notary Services
When you need an important document notarized—whether it's banking-related or not—we've got you covered. Stop in a First National Bank Minnesota location for help.
Order Checks

Effective May 14, 2023, First National Bank Minnesota will be working with a new check vendor to order customer checks called Main Street.

All St Peter, Mankato and Gaylord branch customers will need to place their first order of checks through Main Street with a Universal Banker. You will be able to reorder checks online after that time.

If you are a current Belle Plaine branch customer (former State Bank of Belle Plaine customer) and have ordered checks through Main Street in the past, you can use the link below to reorder checks.
Rates
Current deposit rates are available, for more information please contact one of our Universal Bankers today. Current loan rates are also available, please contact a member of our lending team today.
Safe Deposit Boxes
A safe deposit box is a place to centralize important documents and valuables. Identity verification, access rights according to the lease, along with one of two keys issued to the renter are required to gain entry to the safe deposit box.
First National Bank Minnesota has boxes available for lease in several sizes and the annual payments can be deducted automatically from your checking or savings account.
Common things stored in safe deposit boxes include:

Real Estate Abstracts
Insurance Policies
Automobile Leases/Titles
Loan Documents
Birth Certificates
Marriage License
Income Tax Records
Personal Valuables (Jewelry, Family Heirlooms, Coin Collections, Computer Back-up Tapes)
Passports

Stock Certificates
Household Inventories
Savings Bonds
Income Tax Records
Trust Documents
Wills
Credit Card Information
Insurance Policies
Property Deeds
Stop in at one of our locations today to select a safe deposit box that is right for you!
*The contents of your safe deposit box are not insured against loss by FDIC insurance.
Secure Document Upload
Send confidential documents safely and securely to the First National Bank Minnesota team!
Telephone Banking

Call (888) 703-4362 to activate telephone banking services

Manage accounts through your touch-tone phone
Hear account balances
Transfer funds between accounts
Wire Transfers
Funds can be transferred electronically, quickly, and efficiently with wire transfers. Please contact a Universal Banker at 800-658-2353 if you have questions or are interested in sending a wire.
If you need additional assistance with questions, just reach out and we'll be in touch shortly.
Important note: please don't send sensitive information through email or through our online form, as these modes of communication are not entirely secure.